Heritage, visit, Cities and villages dans le Nord
Add to my travel notebook
Register your touristic spot dans le Nord it's free (in French)
See accommodation nearby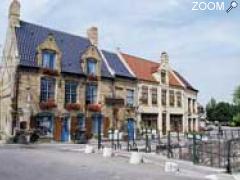 TVORG-2391
Update informations
Disponibilités
Visite.org
59380 Bergues (Nord)
Known as the 'Other Bruges in Flanders', Bergues has fine, yellowbrick ramparts which are well worth seeing. Don't miss the former
pawnbroker's (now the town's museum), the Grand Place with the town hall and its belfry and the surviving remnants of the Abbey of
Saint Winoc. This charming small town is well-known for its fine restaurants.
Register your touristic spot dans le Nord it's free (in French)